The Breast Cancer Post
In April 2000, my mother, then age 49, was diagnosed with Stage IV metastatic breast cancer. That means that the cancer had spread out of her breast and begun to grow in her bones, specifically in her spine. Shortly before diagnosis, she suffered a stress fracture of one of her vertebrae. It was painful for several days but did not cause any lasting damage.
In June 2002, after the cancer had spread to her liver, she had a liver resection surgery. More than 70% of her liver was removed at one time, and she spent 11 days in the hospital. She went home and recovered for eight weeks before she returned to her normal self.
In July 2003, her cancer counts were down and her blood counts were up. Everything was looking great. But in October,
things turned down again
. I didn't know it then, but they would never look up again.
The story that I tell here technically begins in October 2003 and ends on February 13, 2004. But that's not the way life works. There's more to say, and if truth be told, this blog is about me more than it's about my mother. She starred in it, and she's still making cameo appearances.
Back in October, I made a hat. It's partly for her and mostly for me. She borrowed it for several months, and I have it back to remind me of my love for her.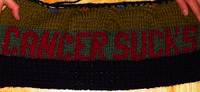 Mom loved the hat, and she loved its message. I love it because it reminds me to use my anger productively.