Fetal
Hey, guess what? Ebry's a fetus!
Ebry is somewhere around 1.5 to 2.0cm long, and is in the process of developing her/his various organs. The upcoming developmental stage, as you will see in the image below, is the Development of the Evil Plot.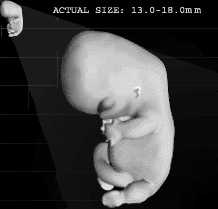 Note how the tiny fetus's fingers touch à la
Mr. Burns
.
Brooke and I are reading up on babies in order to get ahead. Important lessons include
How to Avoid Being Peed On
and
How to Teach Small People to Fall Asleep
. Any suggestions on parenting books will be accepted. I think we have our hands full.